PERSONALIZED KNITTED SOCKS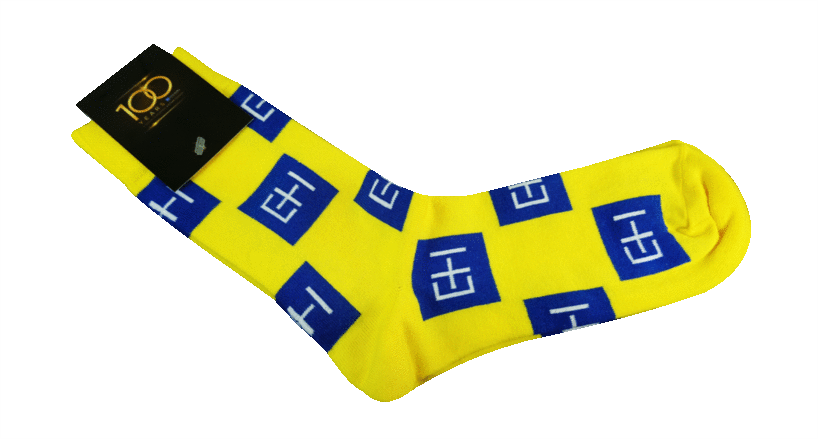 The socks are produced in Europe to the highest quality standards and are known for their exceptional quality and quick production lead times.
All materials used in the production of socks use Oeko Tex certified materials.
The CLASSIC CREW sock is the best seller.
The maximum amount of colours that can be knitted are 6 including the base colour.
The price is the same if the sock is knitted in 1 or 6 colours.
The pair of socks includes a full colour printed recycled sock tag and individual self-seal bag. The COMPOSTABLE BAG IS NOW FREE OF CHARGE.
The standard composition of the socks is: 80% combed cotton for comfort, 17% polyamide for strength and 3% elastane for stretch.
The minimum order quantity required to manufacture bespoke socks is from only 150 pairs!
Production of socks is generally from 2 to 4 weeks depending on the quantities.
There are 2 possibilities for transport.
Standard trucking service by UPS, 7 days throughout the European Union.

Urgent express airfreight by UPS, 48 hours throughout the European Union.
You can choose any sizes. However, to keep things simple we recommend ONE SIZE FITS ALL FOR MAN and ONE SIZE FITS ALL FOR WOMAN.
​
We have over 100 knitting machines to include 168 & 200 needle machines for the highest quality graphics reproduction and 128 & 144 needle machines, which produce thick thermal socks.
​
The socks are available in a comprehensive range of materials and styles to suit all needs. We use our in stock yarn swatch to best match Pantone colours. This has always been the best option.
​
There is a wide range of yarns at your disposal to include organic GOTS certified yarn, and recycled/upcycled yarn .
If a specific Pantone is required, this is of course possible but these yarns will take 5 weeks to produce. In addition to this, the minimum quantity is 130 kilos per colour. So when considering Pantone dyed yarns please allow for up to 8 weeks for the production of your order. The minimum quantity order for this service is 3.000 pairs of socks.
​
There are hundreds of packaging options to include sliding boxes, boxes with lids and 3D shaped boxes.